5 Reasons to Choose Glass Balustrade Stairs for Your Home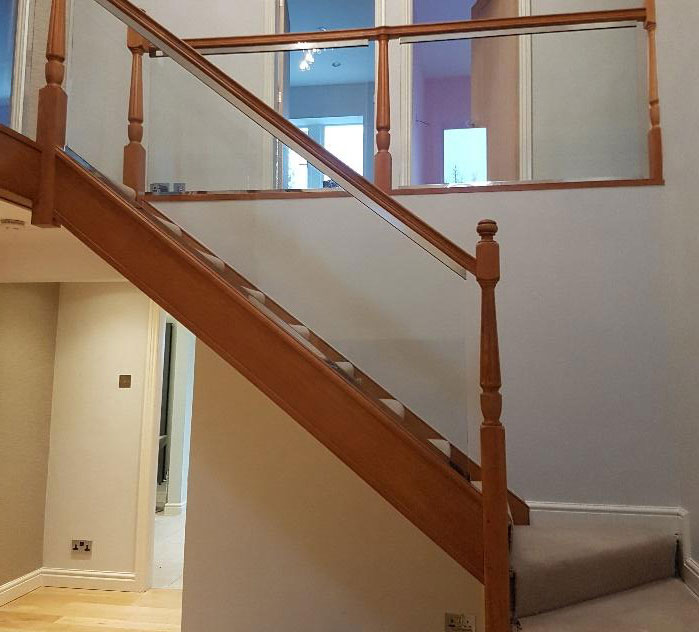 For many, glass balustrades may seem like an eclectic choice for a staircase in the home, but they can be a surprisingly versatile choice for accessorising a stylish home and defining boundaries.
If you're looking for a new staircase with a modern twist, you may find that a staircase with glass balustrade can provide your home with a contemporary look that will compliment every angle of your interior design choices.
Are you considering glass balustrade stairs for your home? Read on to find out:
How glass balustrades offer an aesthetic appeal
How they can boost natural light in enclosed spaces
How glass balustrades are made with toughened glass for safety
How your glass balustrade staircase involves easy maintenance and upkeep for convenience
How you can customise your glass balustrade to compliment your home
How Do Glass Balustrades Offer an Aesthetic Appeal?
Incorporating a glass balustrade design into your staircase can be a great way to compliment your interior design choices without worrying about clashing with any bold design choices.
Glass balustrades offer a modern finish that is minimalist and suitable for every stairway. Whether you're replacing your existing staircase, or adding an addition like a balcony or mezzanine to your home, a glass balustrade offers a uniquely neutral take for your upstairs areas.
How Can Glass Balustrades Create Better Light in My Home?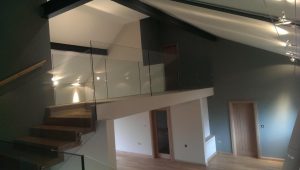 For homes that are on the darker side, taking opportunities to introduce better light into your rooms can completely change the appearance of your home decor.
If you have a dark hallway, or north facing house, a glass staircase or use of glass panel balustrade could help you to encourage the spread of natural light.
Using transparent toughened glass in your glass balustrade can allow for the unrestricted passage of light, allowing for a more "open plan" way of living, and unlike balustrades made with alternative materials, glass does not cast a shadow, which will help to keep your rooms light and airy for longer.
Are Glass Stair Panels Safe and Durable?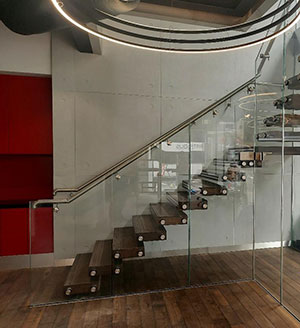 As well as being a stylish option for your staircase, contrary to popular belief, glass stair panels are also an incredibly durable and safe option for stair parts.
Made from toughened glass for extra strength, these balustrades are structurally safe and suitable for indoor and outdoor use for staircases and structures like balconies.
Unlike other materials like oak, glass is not susceptible to damage from mould, and does not require regular maintenance aside from checks for wear and tear, chips, and cracks. Installing toughened glass for your balustrades is not only safer, it also won't chip or crack.
This is in contrast to wooden balustrades that often require treatment and varnishing before use to prevent staining and woodworm infections.
Metal balustrades which require regular inspections for rust, and need treating with sealant. Metal balustrades are also unsuitable for coastal properties where exposure to saltwater can be detrimental to the integrity of the balustrade.
Ultimately, the inert quality of glass balustrades makes them a safe and sensible option for your home decor, and the highest quality glass will last for years with minimal intervention from the homeowner. They are also manufactured to withstand a high level of accidental impact, so you can live life as normal without worrying about shattering the glass panel.
They are commonly used for a highly durable safety barrier for structures at a height like balconies and mezzanines.
Finding the right glass for your balustrades is an important consideration during your design process, and one that you should consult your glazier on. In some cases, you may require toughened and laminated glass. If you aren't sure what option will suit your staircase best, then our team are happy to advise.
Glass Panels Require Very Little Maintenance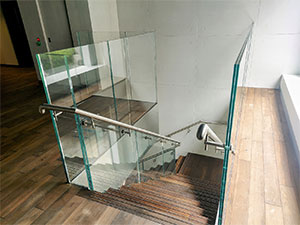 As glass is a very insert material, it requires little maintenance aside from regular dusting and polishing, so you can keep your glass stairs can stay pristine for longer.
Unlike wooden or metal balustrades, glass balustrades are particularly vulnerable to fingerprint smudges, marks and dust, so regular light cleaning of your glass panel with a soft cloth and glass cleaner can help to keep on top of this.
Applying a dirt and water repellent coating to the glass may also help with the general upkeep and maintenance and make cleaning much easier.
Depending on the location of your glass balustrades, this may change – for example, if you install your glass panels outside, they are more likely to require more regular maintenance and checks to ensure their continued strength and cleanliness.
Glass Balustrades are Easily Customisable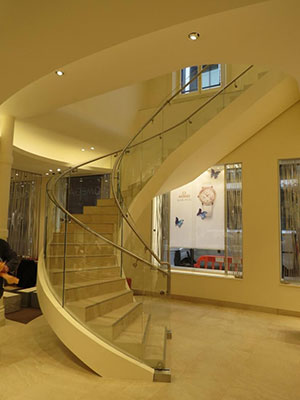 One of the biggest benefits of glass balustrades is that they are easily customisable. Whether you're looking for high quality glass panels for your stairs, or stunning glass spindles, your design can easily be incorporated into glass balustrade options for a stunning staircase.
Alternatively, if you've installed glass stairs, glass balustrades are a natural complement to this design. This can give the illusion of more space in your hallways or living room without the hassle of removing walls to create more space.
Your range of glass balustrade options are varied, depending on your personal taste or desired design.
Choose from tinted glass, frosted glass, or incorporate etching, patterns or texture to your glass balustrade. Additionally, you could choose from matte or glossy finishes according to your exact requirements.
Your choice of handrails can also be used to influence your glass balustrade design. Whether you want to opt for a wooden handrail, or a more durable metal like aluminium or steel, these can be great for reinforcing the existing structure of the staircase and can add some style to your home.
Additionally, adding wooden or metal newel posts to your staircase can add some style to your glass staircase design, and add accent to your handrails.
Do you have a design idea for glass balustrades in your home?
Contact the expert team at Halifax Glass today for a consultation with the design team to create a dream staircase from your exact design and talk through our full range of glass balustrades.